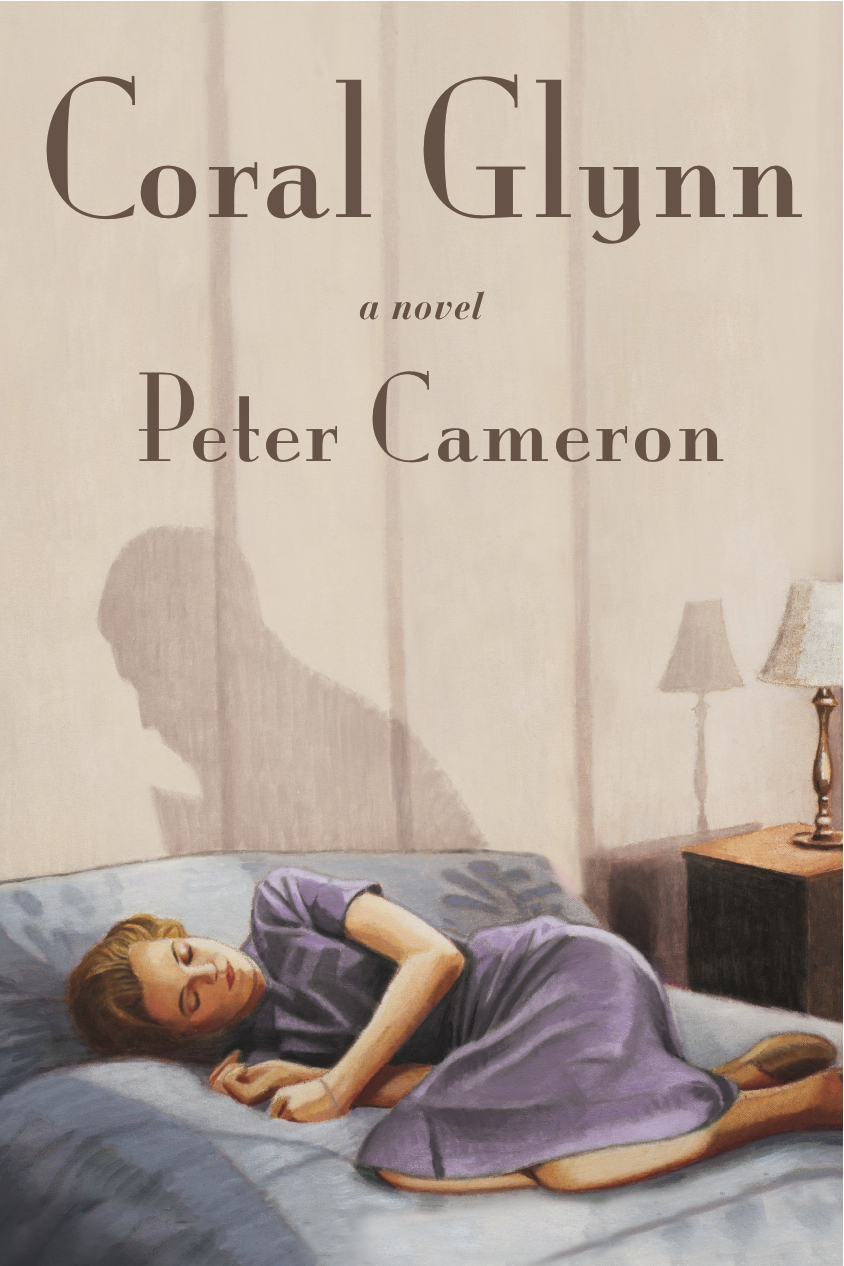 Cameron's sixth novel, Coral Glynn, set in England in the 1950s, was published by FSG on March 6, 2012. Foreign rights have been sold to Adelphi in Italy, Knaus in Germany, Rivages in France, Libros del Asteroid in Spain, and to Niew Amsterdam in the Netherlands.
Wall Street Journal

A novel sports no blaring front-cover blurbs and no airbrushed author photo. Like its packaging, Peter Cameron's Coral Glynn is spare and unassuming. Mr. Cameron announces his talent in the way that matters: by telling a riveting tale with an often heartbreakingly pure prose style ... Offering literary nods to everyone from Jane Austen to Barbara Pym, Coral Glynn risks falling into cliché and false nostalgia. But Mr. Cameron avoids the dangers with writing that is bracingly unvarnished and unsentimental, stripped of pity or condescension. It is as though he has set an X-ray machine before the traditional English drawing room, leaving its demure occupants exposed in their loneliness and well-meant follies—and revealing them as movingly human. — Sam Sacks
New York Times Book Review

By the end of this sad, beautiful, absorbing story of love missed, love lost, love found, I was thinking that this must be what it's like to slip into a bath of hot tears ... It would be a disservice to the novel's intricate and subtle construction to give even a cursory summation of its unfolding events. Cameron has taken great pains to artfully reveal the wounding shards of personal history that motivate — or enervate — every character. They lie inside each person, so the reader has the sense of their hidden presence even before the lacerating shock when they're let loose ... Quite apart from narrative drive, there is plenty of propulsion in the powerful elegance of the writing in this story of a young nurse named Coral Glynn. — Dominique Browning
Oprah.com
Book of the Week

. . . But Peter Cameron is so much more of skilled and subtle writer than this. Underneath his page-turning plot is a careful, complex examination of loss—and the human ability to fully experience love after too much loss. Coral has suffered all kinds of quiet, devastating violence in her own life—the unspoken kind that's either ignored or simply expected when it comes to working-class woman, post-war or not. It's her emotional life that becomes the real mystery of the novel ... Here is the pleasure of the novel—albeit a painful one. In bringing Coral to life, Cameron knows what not to say, how to leave the kind of tiny, white space that lets us readers imagine the huge, colorful, overwhelming world of even the most broken human heart.
Publishers Weekly
starred review

Set in the English countryside in the aftermath of WWII, this quietly compelling sixth novel from Cameron (The Weekend) focuses on the story of the eponymous heroine, Coral, a nurse, sent to Hart House in 1950 to tend the dying Mrs. Hart. With great efficiency, Cameron introduces the other players: Mrs. Hart's son, Maj. Clement Hart, an embittered veteran wounded in the war; his friend Robin Lofting; the brittle, disapproving housekeeper, Mrs. Prense. But after Mrs. Hart dies, and Major Hart proposes to Coral, this seemingly well-realized homage to the postwar British novel quickly turns almost gothic ... The book is suffused with a lonely sadness and an aura of the surreal, and the many dramatic events in Coral's life are entirely plausible thanks to Cameron's skill as a storyteller.
Bookforum

[Cameron's] chief literary virtues are wit, charm, and lightness of touch, qualities infrequently found in contemporary American fiction ... Cameron is above all a novelist of manners, building his effects from the drama and comedy of human relationships, working always on a small scale, so it has been tempting to treat his books as "minor." ... Cameron specializes in emotional subtlety and unspoken desires — all the while hinting at an almost overwhelming disorder swirling beneath the placid surface ... We may be slow to recognize Cameron as a twenty-first-century American master because he has the sensibility of a twentieth-century British one. — Christopher R. Beha
Newsday

What is Cameron up to here? He has said he was inspired by midcentury British women writers such as Elizabeth Taylor and Barbara Pym, but in no way does Coral Glynn read like a smug 21st-century metafiction. Indeed, the pleasures of this novel are its lovely, restrained writing and its quiet power to keep the reader turning pages. What happens next? We never entirely warm to this peculiar, passive heroine and her repressed major, but there's something delicious about their odd, terribly English story. — Tom Beer
The Boston Globe

Peter Cameron [is] an elegantly acute and mysteriously beguiling writer, author of Andorra (not about Andorra), The City of Your Final Destination (no finality at all), and Someday This Pain Will Be Useful to You (it won't, really). The plots, the ventures, the encounters of his characters, instead of taking them from point A to point B, abduct them into unintended and more expansive itineraries ... The first half of the book, in fact, is unadulterated Gothic, working its horror on us even as we are aware that we are getting something of a contrived though brilliantly written pastiche. Only in the second half, where Gothic shifts into sardonically redeeming romantic comedy, do we realize that it was much more than pastiche. — Richard Eder
Fresh Air

. . . Coral Glynn is not "about" anything so much as it is about the pleasures of storytelling. Even throwaway scenes are so closely observed, they offer the delight of the unexpected word or detail ... If, like those women I overheard in the bookstore, you're looking for a "new" "British" novelist, try Peter Cameron: He's a good value because he artfully compresses so many beloved English stories and tropes into one smashing novel. — Maureen Corrigan
Barnes & Noble Review

Short and spare, Peter Cameron's Coral Glynn is made up of four separate, tightly sprung parts, through which run disparate strains of literary manners and mood. The author has said that he has been influenced by such mid-twentieth-century writers as Rose Macaulay, Barbara Pym, Elizabeth Taylor, and William Maxwell. One can see this in his characters' quiet, intense interiors and Cameron's own thrusts of tart humor. But in this novel, the dealers in English gothic -- the Brontë sisters, Wilkie Collins, and Ruth Rendell -- are also close at hand, as is the spirit of mischief, steering the plot through sharp turns and startling revelations. The result is a fanciful, unpredictable curiosity of a novel, one which, I am happy to report, is immensely entertaining. — Katherine A. Powers
Barnes & Noble
Best of the Month
Beauty and loss suffuse Peter Cameron's atmospheric period novel, set in the English countryside in the 1950s. When she is hired to care for a dying woman at the woman's isolated home, a young nurse discovers that the secluded mansion is also inhabited by the dying woman's wounded-veteran son. Exploring themes of love and longing, Cameron's skillfully wrought tale lures readers into a somber, dreamlike world.
NPR
At first blush, Peter Cameron's Coral Glynn is a curio — an atmospheric period piece. In its simplicity, it seems a throwback to mid-20th-century domestic novels, but with echoes of Jane Eyre — a sort of Gothic lite. However, its concerns with repressed homosexuality, lies of omission and whether it's preferable to settle for "a quiet, decent life" or hold out for greater fulfillment are timeless. — Heller McAlpin
New York Journal of Books
Coral Glynn, Peter Cameron's wonderfully weird new novel, alludes to a number of literary genres and earlier time periods but is still quite original and rich with interesting, unexpected plot twists. Mr. Cameron's novel is utterly compelling, interesting, and terrifically well written ... Through his exquisite prose Mr. Cameron creates an engaging and thoughtful tale about damaged, complex people who want to connect. — Ariel Balter
Band of Thebes

...Let March be the month that Peter Cameron has a breakout bestseller with his superb sixth novel Coral Glynn . . . Cameron writes great novels the w
ay they are intended to be, as art of pure imagination ... The novel is magnificently plotted. The action moves from the countryside to London and from a relationship with a landed lady's son to a landlady's son. With its vaguely dreamlike aura and its accusation of murder, the book's mood is closest to that of Cameron's third novel, Andorra. But Coral Glynn is even better. It takes bigger leaps, goes deeper, and to my mind is more nervewrecking because the well-meaning characters make such terrible choices. The only choice for you to make is when to read it because as one of the year's best books it cannot be missed. — Stephen Bottum
Commentary

Peter Cameron's sixth novel is strangely irrelevant and completely unnecessary. It meets no demand, fills no need, gratifies no craving, strokes no ideology. Coral Glynn is very little more than a wonderful delicious treat for readers who feasted on the novels of Barbara Pym and Elizabeth Taylor years ago and despaired of ever finding anything like them again. — D. G. Myers
The Nervous Breakdown

Why would Peter Cameron, a twenty-first century American living in Manhattan, write a period piece set in postwar provincial England? I was intrigued ... As I entered the time machine of Coral Glynn, I was so absorbed by the pull of Cameron's compelling prose and barbed wit that I stopped wondering why he chose such an unlikely setting. The novel is a suspenseful yarn involving murder, sex, and a biting critique of social mores. In its maze of misdirection and repartee, it could be a screwball comedy if it weren't at times so tragic. — Sharon Harrigan
Booklist
Cameron's shimmering and expectant prose infuses this deceptively simple novel with an incandescent depth. When a spiritually bereft Coral Glynn arrives at Hart House in the gloomy north of England in 1950 to nurse the elderly Mrs. Hart, her ever-precarious situation as a servant/guest in the household is threatened by the unexpectedly quick death of her patient. Still, Coral is presented with the chance of a more comfortable life when Clement, the physically and emotionally damaged son of Mrs. Hart, proposes marriage. When Coral stumbles upon two children playing a gruesome and dangerous game in the primeval forest adjacent to Hart House, it confirms her initial misgivings. The decidedly somber and gothic tone of the narrative rings the perfect warning note as the reader begins to suspect that a standard fairy-tale ending is highly unlikely for a cast of lost souls forlornly muted by unrequited longings. — Margaret Flanagan
Library Journal

Despite its Rebecca-like beginning—a Mrs. Danvers stand-in, a murder mystery, and a withholding husband—the first love in this story is not the major's first wife. As the reasons for his repressed emotions unfold, we see how they have led to many of the misunderstandings and plot twists that follow. With its atmospheric Fifties setting and stylish writing, this is one of Cameron's finest novels. —Barbara Love, Kingston Frontenac P.L., Ont.